16 of the best hugs to ever happen on 'Full House'
By Anna Redman
With brand-new series Fuller House streaming (Feb. 26), Nextflix has brought everyone's favourite family, the Tanners, back under one roof – and we can't wait to see what hijinks beloved sitcom regulars (and a few new faces) get into this time around.
While some of the shows' big names have had some recent moments in the limelight – Lori Loughlin appeared regularly in the early seasons of 90210, Candace Cameron Bure showed off her moves in Dancing With The Stars and Bob Saget narrated How I Met Your Mother – they've mostly flown under the radar since Full House went off the air in 1995.
But now they're all back (with the exception of the Olsen twins who shared the role of the youngest Tanner, Michelle) and that feel-good formula that made Full House famous will be returning to the small screen. Those Danny Tanner 'Dad Talks,' endless life lessons, and the hug-it-out solution to every problem kept audiences captivated for eight solid seasons, so for a little taster of the love to come we're reliving some of the original series' most notable hugs.
Season 1, Episode 1, "Our Very First Show"
The Full House love of hugs is evident from the very first episode, and it's also worth noting that they cover a wide range of emotions. From Danny's persistent and humorous hugging of Uncle Jesse, an avid hug hater, to the more emotional father/daughter embrace after DJ reluctantly agrees to share a room with Stephanie, this episode is the perfect sampler of everything that's still to come.
Season 1, Episode 10 "Joey's Place"
For the first few episodes Joey is without a bedroom, sleeping on the couch, and by episode 10 the lack of privacy is getting to him. The family decides to renovate the basement while he's away on a two-week comedy tour, but Joey, who left feeling irked and under-appreciated, takes the news that he's been relocated to the basement badly and storms down to retrieve his stuff. When he realizes the space has been transformed, a hilarious combination of group hug and tackle session ensues.
Season 2, Episode 3, "It's Not My Job"
After Jesse sells a jingle and tries to shift his career focus from his father's extermination business to his personal passion for music, he and his dad have a huge fight. When they regroup for round two they are able to discuss their differing opinions more rationally, and the masculine hug between father and son shows that Jesse's anti-hug mentality is wearing off.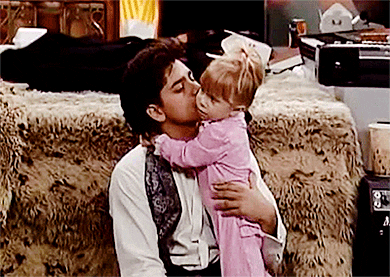 Season 2, Episode 10, "Middle Age Crazy"
Following a bout of middle child syndrome, a young Stephanie decides to "marry" her best friend Harry. When the rest of the family realizes how neglected she's been feeling, they tell her how much she's loved before giving her individual hugs. While one-on-one hugs between two or three cast members occur fairly regularly, individual hugs involving the whole family aren't common practice, making this episode somewhat unique.
Season 3, Episode 3, "Breaking Up Is Hard To Do (In 22 Minutes)"
Though it doesn't even last for one full episode, Uncle Jesse and Aunt Becky do have a short-term split. During their time apart DJ and Becky share a heartfelt conversation about how the girls can always go to Becky for advice, even if she and Jesse aren't together. This chat is followed by a hug, clearly showing that Becky is officially part of the family now – and, of course, she and Jesse have reunited permanently by the end of the episode.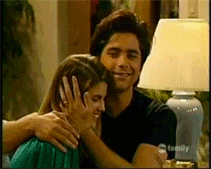 Season 3, Episode 8, "Divorce Court"
Danny, Joey and Jesse try to settle the constant bickering between reluctant roommates DJ and Stephanie by allowing everyone to air their grievances in the living room. This episode wraps up on the eve of Halloween and, with Stephanie dressed as Batman and DJ dressed as the Joker, the sisters share a hug to reconcile their differences, offering viewers a very unexpected sight!
Season 4, Episode 20, "Fuller House"
The "farewell" group hug in season four takes place after Jesse and Becky's honeymoon when they think, for a brief period of time, that they might move out and live in their own place. Nope – the Tanner family's renovated attic it is.
Season 4, Episode 26, "Rock the Cradle"
If they're not blending hugs and morals then hugs and humour is Full House's second go-to. At the end of season four Jesse receives an overly enthusiastic group hug from the family when he reveals he has exciting news. Having eavesdropped on her doctor's phone call, everyone thinks he's about to reveal Becky's pregnancy, but Jesse, who doesn't know yet, actually announces that he's going on tour!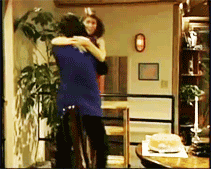 Season 5, Episode 3, "Take My Sister Please"
A tender sisterly moment also serves as a transition in the Full House way of doing things. After DJ requests her own room – and gets it – Stephanie feels a little abandoned and annoyed that she has to share with Michelle. After DJ explains that she's still there for anything Stephanie needs, and that Stephanie can now be the bossy big sister in the bedroom, the duo hug it out and start the moving process.
Season 5, Episode 4, "Oh Where, Oh Where Has My Little Girl Gone?"
In dealing with a common parental problem, Danny worries that he's losing DJ and tries to hang on too tightly, ultimately driving even more of a wedge between the duo. After a heart-to-heart, however, they resolve their differences with a loving hug, naturally.
Season 6, Episode 3, "Road To Tokyo"
In the later seasons of the show Jesse's music career has started to take off, and at the beginning of season six he visits Japan to promote his single "Forever," which has topped the charts across the Pacific. Michelle spends the majority of the episode missing her Uncle J leading to an adorable, heartfelt hug when he surprises her in the backyard while she's attempting to dig her way to Japan.
Season 6, Episode 11, "Designing Mothers"
Vicky's interior designer mother comes to visit and redecorates Stephanie and Michelle's bedroom without Danny's permission, causing a spat between their dad and his current girlfriend. The sisters concoct a plan to reunite the lovebirds, which works and of course ends in a typical Full House hug. The not so typical part – Danny is fully decked out in scuba gear when it happens.
Season 7, Episode 1, "It Was A Dark And Stormy Night"
The opener of the penultimate season sees the girls reluctantly return from summer camp. The adults feel hurt that DJ, Stephanie and Michelle didn't miss them as much as they were missed, but everyone talks it out over dessert. The best part of this group hug – it's triggered by Joey sitting on a plate of hot s'mores leading to a humorous 'get-them-off-me' dance around the living room.
Season 7, Episode 8, "Another Opening, Another Show"
In what may be the only non-sarcastic exchange between Uncle Jesse and Kimmy Gibbler in the show's entire eight-season run, the pair share a heartfelt hug after Jesse re-opens The Smash Club and everything goes disastrously wrong. Kimmy, who has been hired on as a waitress gives, Jesse the honest truth about how his bad attitude is causing the chaos and the two have a short-lived bonding moment.
Season 8, Episode 9, "Stephanie's Wild Ride"
After DJ stops a rebellious Stephanie from going on a risky car ride with some high school guys she met at the mall, the angry sisters get into an emotionally charged argument. When Stephanie later learns that her friend was injured in the car ride she narrowly escaped she changes her tune, rewarding DJ's 'play-it-safe' approach with a hug.
Season 8, Episode 24, "Michelle Rides Again Part 2"
The final hug of the entire show couldn't be left off the list. As the entire cast unites (including Kimmy and Steve) at the end of the last episode there's a soulful group hug that blends warm and fuzzy with feelings of sorrow as diehard fans say goodbye to the cast, and the Full House residents prepare to say goodbye to each other.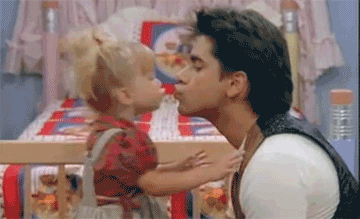 Don't miss a beat with
HELLO! Canada's
Daily Hits newsletter, your daily dose of royal and celebrity news, fashion, weddings and more.
CLICK HERE
to sign up for free!