The top five beauty moments from 'The Princess Diaries'
Even though 15 years have passed since The Princess Diaries hit theatres, the movie's most memorable beauty and fashion moments remain iconic. Cast alongside the inimitable Julie Andrews, Anne Hathaway was catapulted to stardom when she starred as Mia, a teenage girl who finds out she is a princess of the fictional country of Genovia.
To celebrate the film's birthday, we take a look back at the top 5 beauty moments from the beloved comedy…
1. Mia's famously bushy eyebrows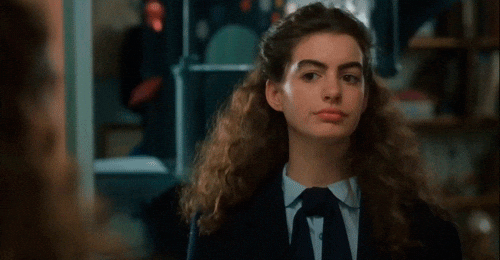 Before Cara Delevingne burst onto the scene and made bushy eyebrows a major beauty trend, Anne sported striking full eyebrows. "If Brooke Shields married Groucho Marx, their child would have your eyebrows!" exclaimed Larry Miller's character, glam squad leader Paolo. While she would eventually get them plucked during her princess makeover, the beginning of the film saw Mia embracing her eyebrows, including the infamous eyebrow-wiggling scene as she got ready for school.
2. The cucumber slices
While Mia enjoyed a spot of pampering, she sported two cucumber slices on her eyes – a renowned beauty trick for banishing dark circles and helping to reduce any swelling or puffiness. However, Paolo had a different thought, and while Mia was listening to music he revealed to his assistants that "the cucumber does nothing"!
3. The broken hairbrush
There were many mishaps when Paolo worked to give Mia a royal makeover, but none were as memorable as when the stylist took to her untameable, frizzy tresses with his wooden hairbrush. As he attempted to brush through the tangles, Paolo's hairbrush snapped in half, causing him to retaliate later and snap Mia's glasses in two.
4. The dangerous pore strips
During a confrontation with love interest Michael, played by Robert Schwartzman, Mia realises that she is still wearing a pore strip on her nose from her evening skincare routine. When Michael points it out, she quickly rips it off – and quickly feels the pain!
5. The big reveal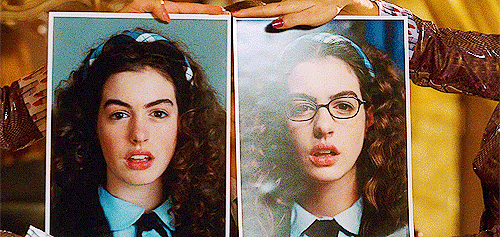 In what has since been hailed as one of the film's iconic scenes, after a music montage hinting at Mia's long makeover, it was time for the big reveal to her Julie's character. The glam squad held two humorously unflattering photos of Mia looking startled at the camera, before removing them from in front of her face to reveal her new look – sleek brunette tresses, shimmering eye make-up and glossy pink lips.
Don't miss a beat with
HELLO! Canada's
Daily Hits newsletter, your daily dose of royal and celebrity news, fashion, weddings and more.
CLICK HERE
to sign up for free!